| | |
| --- | --- |
| Cassie's Wet Bike Ride in the Rain | |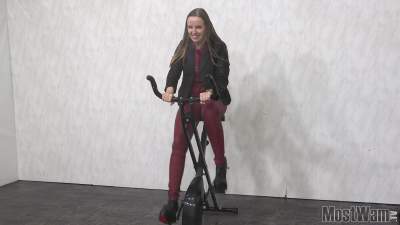 Starring the following model:
Cassie is riding her bike on the way to an interview with me when the rain hits her and starts to get her wet. Slowly Cassie gets wet on her long. She arrives at my office where i've just popped out. Cassie wonders around the office nosing at my things while she waits. Getting up and turning around showing off her outfit. I arrive and show Cassie what needs to be done. She takes off her jacket and begins to work. I test Cassie in a composure test by throwing water at her while she works. I chat to cassie about why she rode her bike to the interview, and she talks that she has another interview and has no time to go home and get changed so she's going to ride her bike wet to the next interview. Also it's raining out so its back on the bike and she rides it in the rain.
| | |
| --- | --- |
| File count: | 3 |
| Total size: | 2 GB |
| Total runtime: | 34 mins, 36 secs |
| Date added: | 1/07/18 |
| Year produced: | 2017 |
| Views: | 3447 |
| Scene ID: | 25917 |

$8.00



Includes these files:
cassiebikewetcustomstore1.mp4

1920x1080

8,330 Kbps

762.12 MB

12.8 minutes
cassiebikewetcustomstore2.mp4

1920x1080

8,243 Kbps

961.17 MB

16.3 minutes
cassiebikewetcustomstore3.mp4

1920x1080

8,339 Kbps

329.59 MB

5.5 minutes

Report